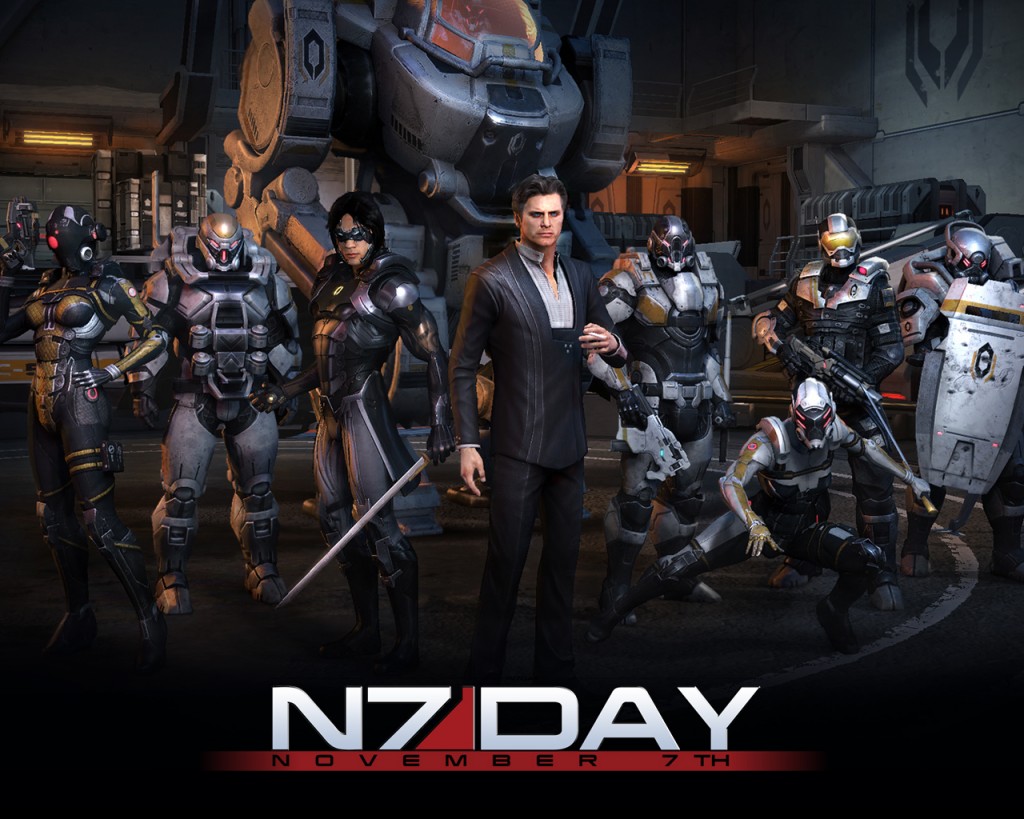 Hey Everyone,
We've got plenty of great things going on this N7 Day, and we welcome you to join in the celebration.
Play with Devs!
Starting at 2pm MST, our developers are going to be jumping on ME3 multiplayer and playing along with fans. We're set up on PC, PS3, and Xbox, so keep an eye out for the BioWare banners.
Our very own Bryan Johnson will also be running a twitch livestream of his games. Be sure to check it out!
We've also added a second livestream from the BioBridge that you can check out as well.
Want to friend us? Go right ahead.
Our Gamertags on Xbox are:
PC
BioWareDev3
BioWareDev4
BioWareDev5
BioWareDev9
BioWareDev10
BioWareDev2
BioWareDev7
BioWareDev6
BioWareDev8
BioWareDev11
BioWareDev12
Xbox
N7BioDev1
N7BioDev2
N7BioDev3
N7BioDev4
N7BioDev5
N7BioDev6
PS3
ME3BioDev1
ME3BioDev2
ME3BioDev3
bwm001
bwm003
bwm004
Deals, Deals, Deals
Our partners are just as excited as we are about N7 day, and to celebrate they're offering tons of deals on N7 goods. Check them out!
–          Stock up on official N7 gear and get 20% off all purchases of $50 or more at the BioWare store!
–          This Child's Play Charity auction is a chance to get your hands on an original piece of Salarian concept art, signed by Matt Rhodes.
–          We created this limited edition reversible N7 shirt specifically for N7 day. You can find it at the BioWare Store for a limited time only.
–          Black Milk Clothing is holding a Mass Effect contest for N7 Day. Send in your best selfies in Mass Effect cosplay for a chance to win one of three $100 vouchers.
–          20% off Cooke and Becker art gicless
–          Walls360 wall graphics are 27% off for N7 Day only. Make sure you use the coupon code: N7DAY
–          TriForce are holding a 77 hour sale offering 25% off the Carnifex Replica