Collectors! Hazard maps! Volus! Oh my! With so much new content being added to Mass Effect 3 multiplayer through the Retaliation pack, we wanted to break it down into bite-sized chunks and allow you to digest all of the goodness.
Developers Eric Fagnan and Corey Gaspur posted a great blog detailing the new additions to multiplayer, so today we're going to take you on a tour of something that we're quite proud of, and one of the coolest new features to date: N7 HQ
N7 HQ gives players total access to the stat-tracking and gameplay data you've been asking for, all with the click of a mouse. From the N7 HQ main page, players can view their Profile, Challenge Awards, and Galaxy at War.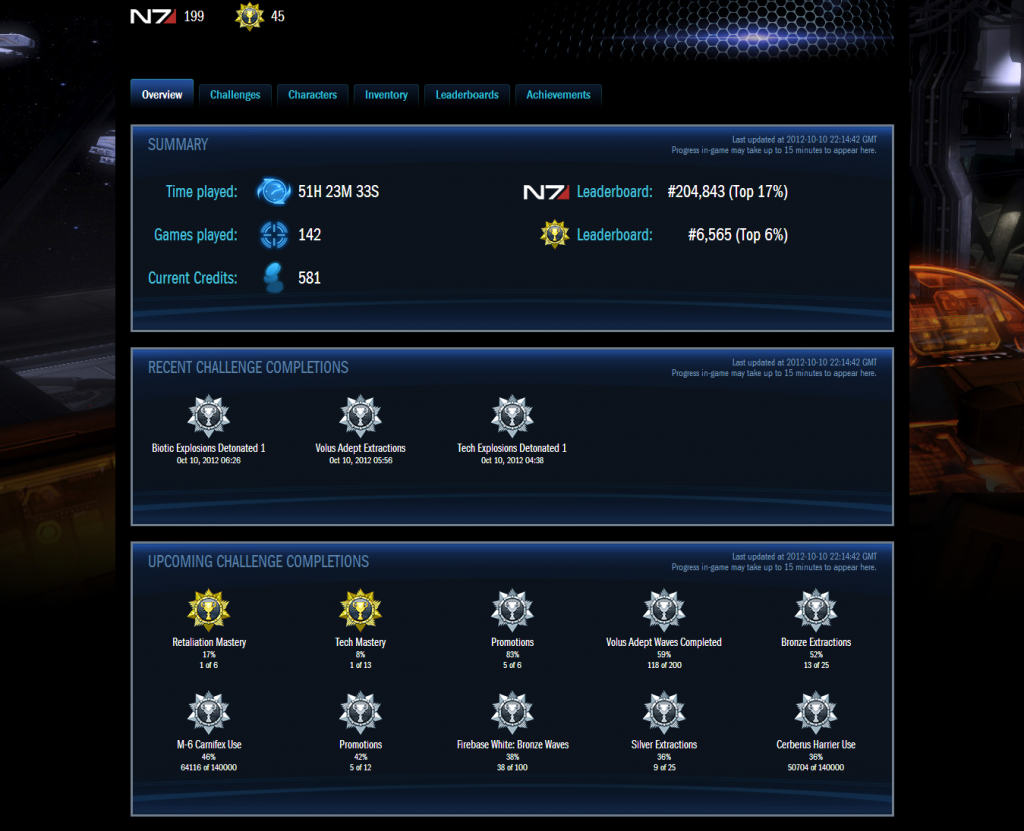 Profile
Players that love stats and customization will spend a lot of time here. From the profile screen, you can track your challenges and set your in-game rewards, view characters, inventory and leaderboards, and explore other profiles and learn how the top players operate.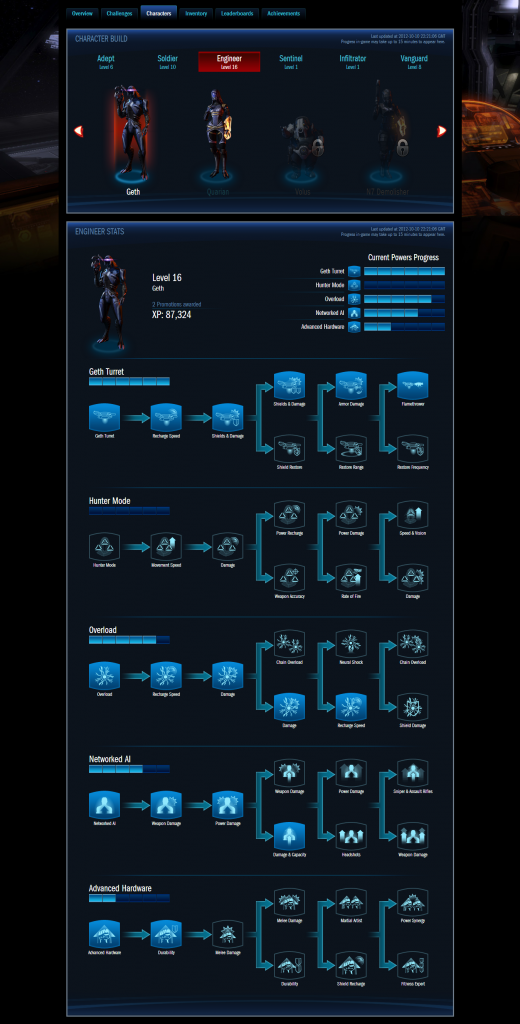 Profile search allows the player to learn in detail what strategies and builds other players in their co-op matches are using in game. We've also added a new leaderboard for the Challenge points system to see what the top players are doing to dominate the leaderboards.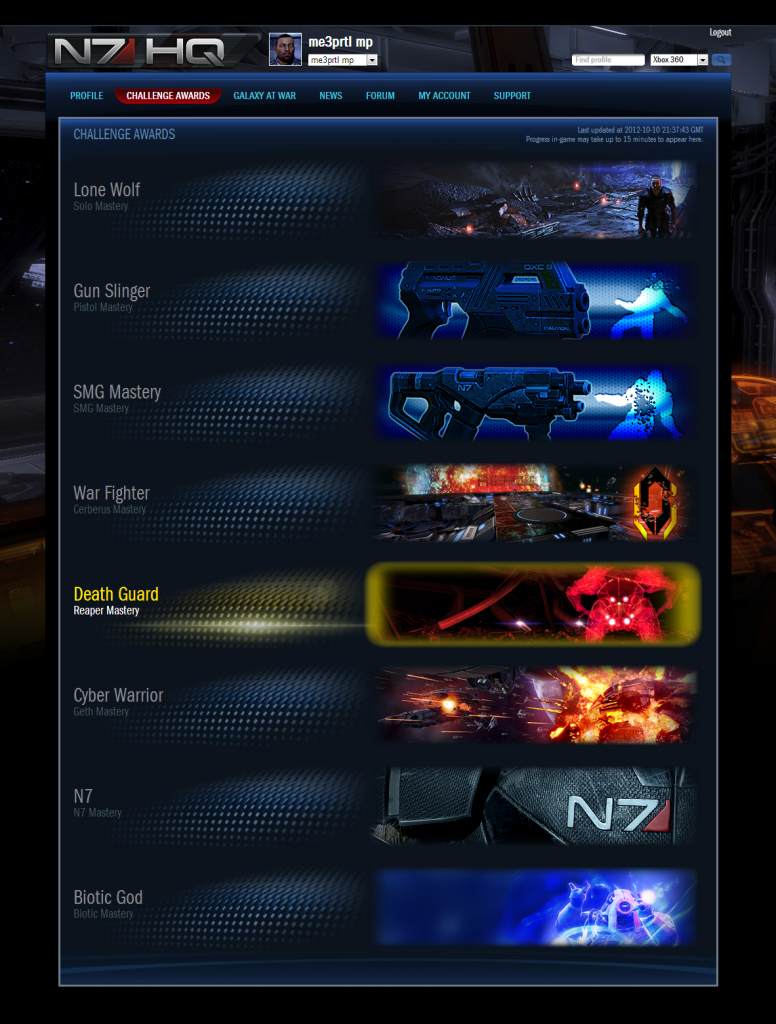 Challenge Awards
Thanks to the new challenge database added from the Retaliation pack, players can now earn challenge points and use them to unlock custom titles and banners to display in the game lobby. From the Challenge Awards screen, players can view their progress toward unlocking Gold Challenge Awards, which earn you custom nameplates for use in game and online. Be sure to read the blog by Nathan Plewes for more information about challenges and multiplayer events.
Starting October 19th, players will be able to participate in new challenges every weekend. Please note that there will not be a challenge this weekend.
Galaxy at War
From the Galaxy at War screen, players can view their Galactic Readiness and Online War Assets at any time.
FAQ
Q: How do I unlock Challenge Award banners?
A: Complete the gold level of a challenge
Q: Do assists count?
A: Yes, they count for both kills and assists for any point based challenges
Q: Are there any rewards for challenge points except banners? And titles?
A: Those are the only current rewards
Q: Will weekend promotions run on the challenge system?
A: Yes, that is the design. See our recent Multiplayer Updates post
Q: Will there be promotional challenges that are only open for a short amount of time?
A: That's the plan
Q: My account doesn't display the right Origin ID/Gamertag/PSN ID under the N7 HQ.
A: Login to the N7 HQ, go to the My Account page and verify that your ID's are visible. This page can also help you troubleshoot account problems.
Q: Why isn't "X" ability in the challenge system?
A: Some abilities don't work well with the challenge system so they aren't part of
Q: Why isn't "X" gun in the challenge system?
A: We may add them later, you'll have to wait and see
Q: Why aren't the challenges retroactive?
A: To give everyone an equal footing, and because the tracking is a new part of the Retaliation Map Pack.
We hope you have enjoyed this in-depth look at N7 HQ, and that you will be as pleased with it as we are. Now, didn't you have some Collectors to go dispose of? Dismissed.