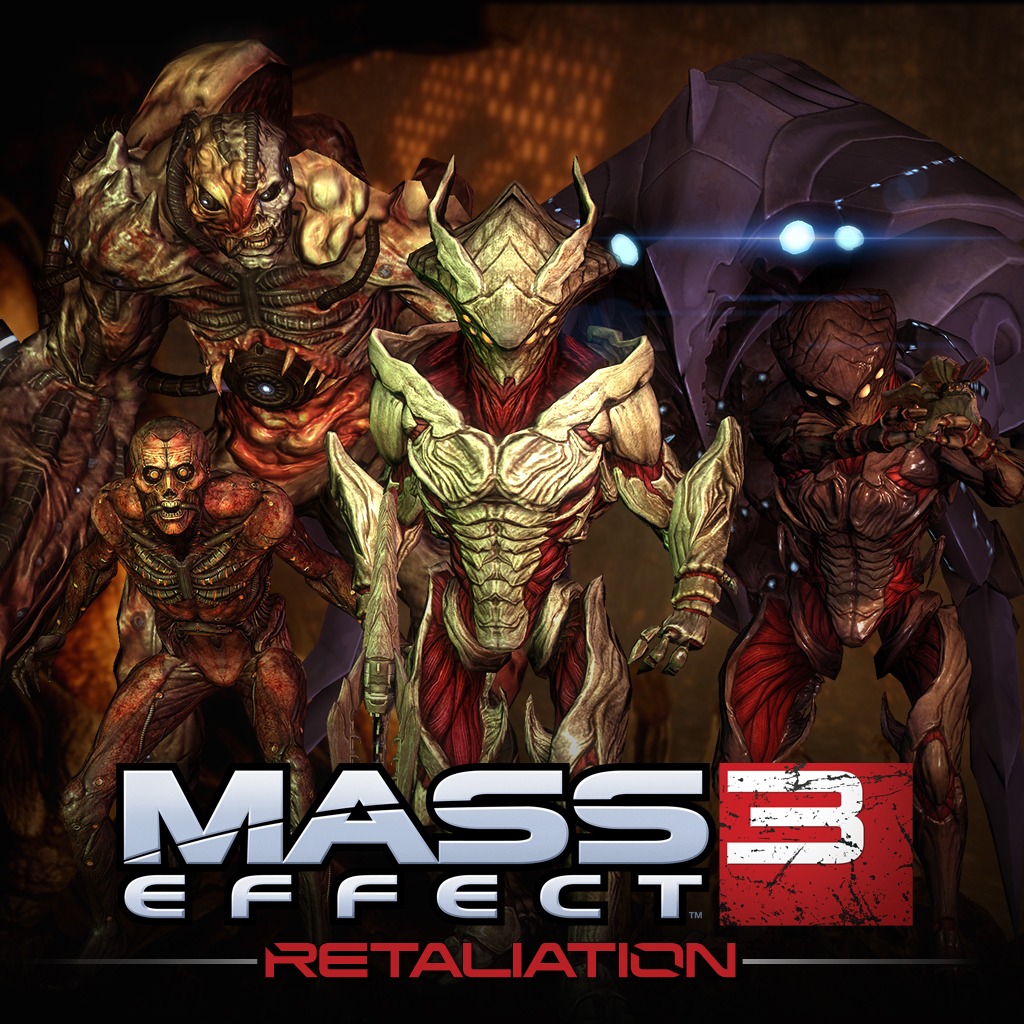 Today we are excited to announce Mass Effect 3: Retaliation, a new expansion to the critically-acclaimed Mass Effect 3 multiplayer mode, and our largest upgrade to date! The Retaliation begins on October 9th (October 10th for PS3 in Europe), and will be free to download for PS3, Xbox 360, and PC.
Watch the Mass Effect 3: Retaliation trailer now!
What's Included in the Retaliation Pack?
New Enemy Faction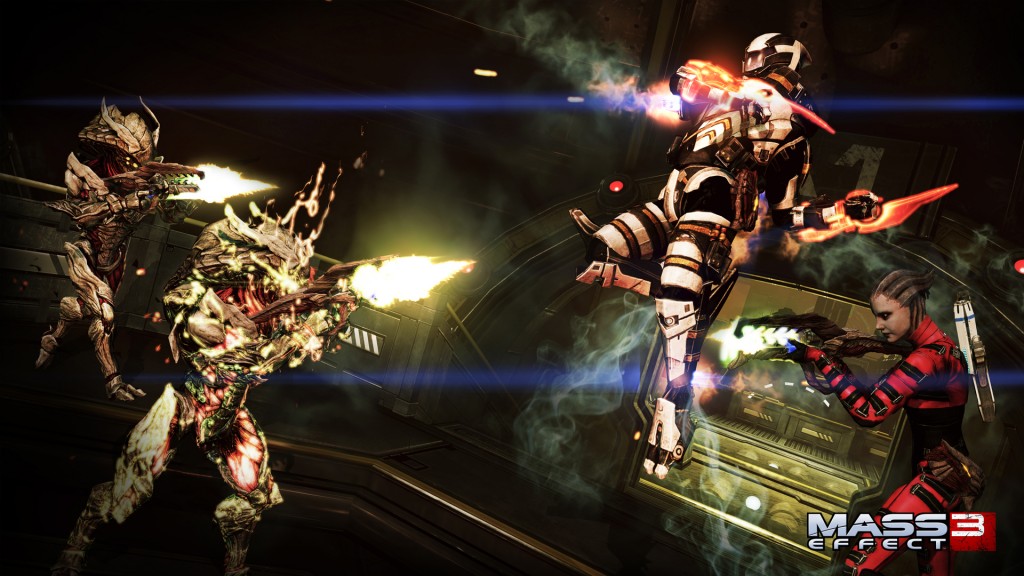 Prepare to face off against the Collector Praetorian, Scion, Abomination, Trooper, and Captain. Reports have also come in that Cerberus has enlisted the Dragoon to their ranks and the Geth are deploying new Drones to the battlefield.
New Class Kits to Unlock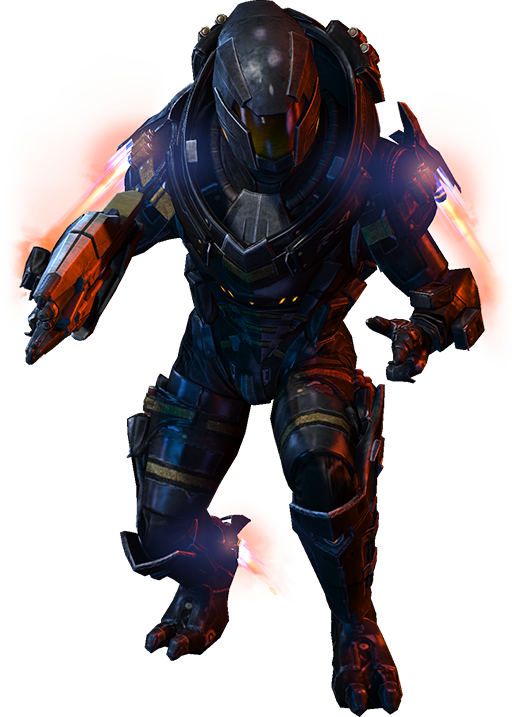 A host of new characters have joined the war to fight this new threat, including the Turian Havoc Soldier, Turian Ghost Infiltrator, with many more being added on a regular basis.
New "Hazard" Versions of Existing Maps

Wage war across six maps, featuring new environmental hazards and traps. A regular rotation of Firebases will be introduced to different hazards as they come under attack. Survive the onslaught of Acid, Lightning, Meltdowns, Sandstorms, Swarms and Whiteouts!
New Unlockable Weapons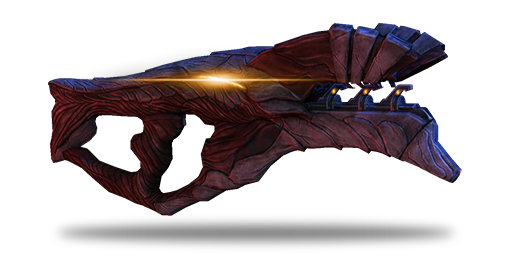 The Collectors have also brought deadly new weapons to the fight: the Collector Assault Rifle, Sub-Machine Gun, and Sniper Rifle.  Unlock these weapons and new equipment upgrades to build to your arsenal.
New Powerful Upgrades
Outfit your weapons with new ammo modifications and fortify your gear with unique upgrades to defeat even the toughest foes.
New Multiplayer Challenge Feature
Think you are the best soldier in the Alliance? Make sure to track your progress in the new "Challenges" database. Complete various multiplayer assignments and feats of strength to unlock titles and banners to display in-game, and then compare your progress against your friend.
How does it work?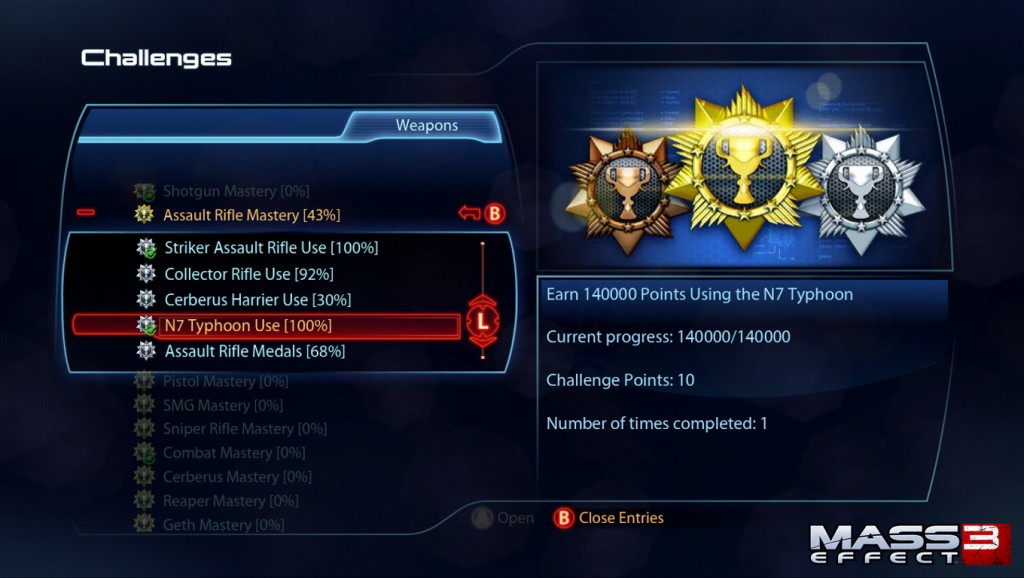 The "Challenges" database tracks various in-game statistics, such as your N7 Typhoon usage. To earn challenge points, you'll need to complete mini-goals. For example, accumulate 140,000 points while using the Typhoon in multiplayer and you'll be rewarded with 10 challenge points.
What Can You Do With Challenge Points?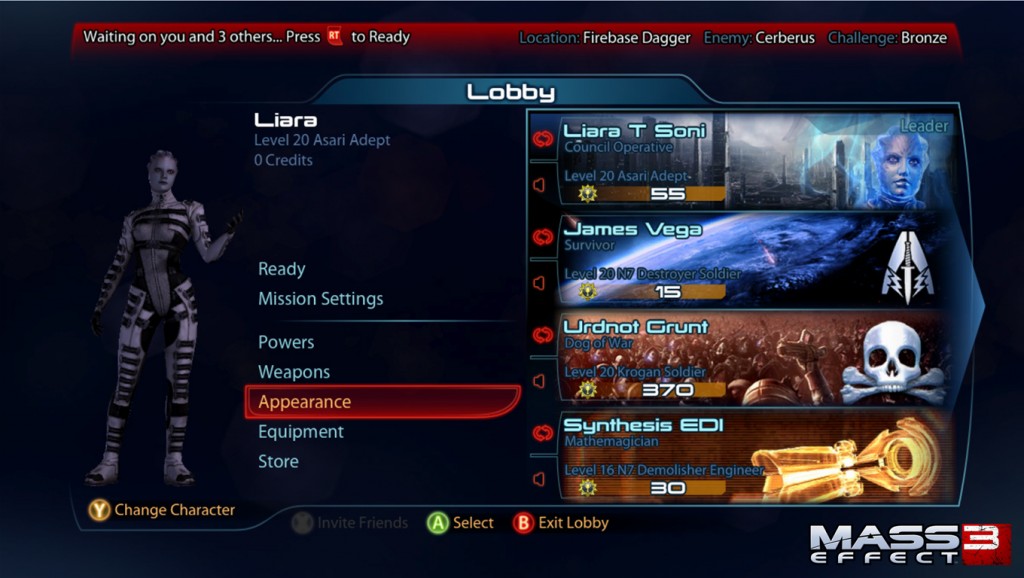 Challenge points are used to unlock cool in-game multiplayer bonuses, such as new titles and banners. Want other players to know that you're a Council Operative? You can do that. Want to be the envy of your friends with a flashy new banner to display in the player lobby? You can do that, too!
Challenge points lead to unlocks, and unlocks allow you to personalize your multiplayer experience. Now, you've got some work to do, Soldier!
——————————————————————————————————————-
Découvrez le tout nouveau système de défis du pack Mass Effect 3 : Représailles. Grâce à cette nouvelle fonctionnalité du mode multijoueur, vous serez récompensé pour vos exploits sur le champ de bataille et pourrez suivre votre progression pour la comparer à celle de vos coéquipiers lors des différents défis.
Mass Effect 3 : Représailles sera disponible sur Xbox LIVE® et sur Origin™ dès le 9 octobre, et sur PlayStation® Network à partir du 10 octobre en Europe. Attention : vous devrez télécharger et installer la toute dernière mise à jour pour que le pack Mass Effect 3 : Représailles fonctionne correctement. Le pack contient :
Des nouvelles versions "dangereuses" des cartes existantes – Affrontez vos adversaires au cœur de six cartes mettant en scène les bases classiques qui fourmillent de nouveaux dangers et d'autres pièges plus traîtres les uns que les autres. Survivez aux attaques sur les bases enflammées Acide, Éclair, Fusion, Tempête de sable, Nuée, et Voile blanc !
Une nouvelle faction ennemie redoutable – Les classes Prétoriens, engeances, abominations, soldats et capitaines récolteurs vous attendent de pied ferme. Une chose est sûre : le combat sera intense. Des rapports signalent également que Cerberus compte maintenant un argousin dans ses rangs et que les Geths déploient des drones sur le champ de bataille.
De nouvelles armes déverrouillables – Les Récolteurs ont introduit leur lot de nouvelles armes ultra-puissantes sur le champ de bataille : le fusil d'assaut, la mitraillette et le fusil de précision récolteurs. Complétez votre arsenal en déverrouillant ces armes et les nouvelles améliorations d'équipements.
De nouveaux personnages à déverrouiller – De nouvelles recrues ont rejoint la bataille pour vaincre cette nouvelle menace. Parmi eux, le soldat barbare turien, l'infiltrateur fantôme turien;et bien d'autres encore dans les prochaines semaines.
De nouvelles et puissantes améliorations – Équipez vos armes de trois nouveaux types de munitions modifiées et renforcez votre équipement avec cinq améliorations uniques pour vous préparer à combattre les ennemis les plus coriaces.
Une nouvelle fonctionnalité de défis en multijoueur – Vous pensez être le meilleur soldat de l'Alliance ? Enregistrez votre progression dans la nouvelle base de données "Défis". Menez à bien plusieurs missions et épreuves de force en multijoueur pour déverrouiller des titres et des bannières qui s'afficheront dans le jeu, et comparez votre progression à celle de vos amis.
Avec le système Mass Effect 3 : Guerre galactique**, les succès remportés dans le cadre de l'expérience multijoueur en coopération de Mass Effect 3 sont liés à votre campagne solo. En parvenant à prendre le contrôle de chaque théâtre d'opérations, vous augmenterez votre Score de prépa galactique, ce qui aura un impact sur votre manière d'appréhender le jeu. La participation à la fonctionnalité Mass Effect 3 : Guerre galactique est facultative.