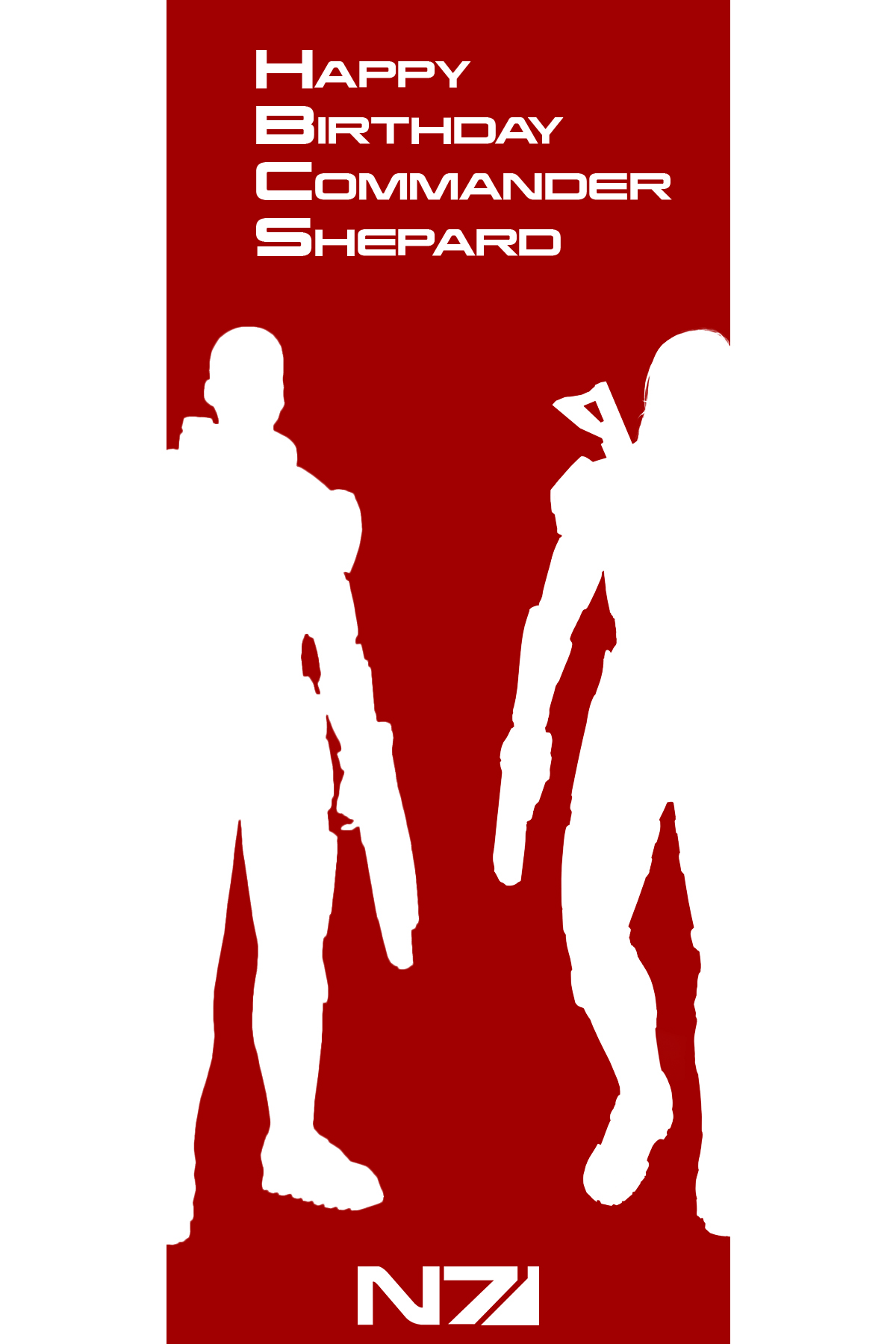 It's not every day that the savior of the galaxy is born. This Friday marks the -140th birthday of Commander Shepard, and to mark the occasion we've put together a kit for the folks at home so you can throw your own celebration.
Below you'll find recipes for cupcakes and cocktails (courtesy of @tasmen). But don't let us tell you how your Shepard celebrates. Make your own decorations, throw your own party, and share the pictures with the Mass Effect community using #HBDShepard.
We'll also be celebrating live at PAX East at the BioWare base, and you're all welcome to come on by (well, not literally all of you, as there are fire codes to think about, but as many as can comfortably fit while still adhering to local bylaws).
Recipes:
Paragon Cupcakes
Ingredients
1 ¾ cups all-purpose flour
1 ½ teaspoons baking powder
½ teaspoon salt
¾ cup milk
2 teaspoons vanilla extract
1 ½ sticks unsalted butter
1 cup sugar
2 eggs
Blueberry jam
Directions
Preheat the oven to 350°F and line 18 cupcake tins with papers.
In a medium bowl combine the flour, baking powder and salt. Set aside until needed.
Combine the vanilla and milk and set aside.
Cream the butter and sugar in a mixer until light (if the butter is cold, beat the butter first, then add sugar).
Add the eggs one at a time, beating well after each addition.
Add the flour mixture to the butter in three additions, alternating with the milk in two additions, beating well after each addition.
Fill each cupcake 2/3 to ¾ full. Bake at 350°F for approximately 20-25 minutes, or until the tops of the cupcakes spring back when touched in the center and an inserted toothpick comes out clean.
Remove cupcakes and let them cool completely on a rack before stuffing and frosting.
To stuff, carve out a small hole and fill with desired amount of jam. Cover hole with removed piece and frost.
Renegade Cupcakes
¾ cup cocoa powder
1 cup all-purpose flour
2 tsp. baking powder
¼ tsp. baking soda
¼ tsp. salt
¼ cup butter
1 cup sugar
2 lg. eggs
½ cup milk
1 tsp. vanilla extract
Preheat oven to 350°F and line a 12-cup standard muffin tin with liners. Remove butter from refrigerator and let chill for 10 minutes until slightly softened.
In a large bowl, sift together cocoa powder and flour, and stir in baking powder, baking soda, and salt.
Mix butter and sugar together until coarsely crumbly. Add eggs, milk, and vanilla extract and whisk until just combined.
Slowly add dry ingredients to wet ingredients while whisking constantly. Mix until batter is smooth.
Spoon batter into muffin tin so that each liner is filled ¾ full of batter. Bake for 19-21 minutes, or until a toothpick inserted in the middle of one cupcake comes out clean. Remove from oven and cool each cupcake on a cooling rack until room temperature.
Strawberry filling
1/2 cup water
1 tbsp. corn starch
1 cup frozen strawberries, thawed
1/2 cup sugar
Combine water and corn starch in a small bowl and mix until smooth.
Roughly chop strawberries and add to a small sauce pan. Heat on medium heat, stirring constantly, until bubbles pop on the surface.
Add sugar and stir to dissolve.
Add water and cornstarch mixture and stir to combine thoroughly. Cook for 1 more minute and remove from heat. Let cool to room temperature and then chill in refrigerator for at least 2 hours.
Remove a wide cone from the middle of the cupcake. Cut off roughly ½ inch from the cone's tip. Spoon about 3/4 tsp. of strawberry mixture into the cupcake, and replace top. Repeat for all cupcakes.
Whipped Cream Frosting
1 package (8 oz) softened cream cheese
1 cup powdered (icing) sugar
1/8 teaspoon salt
1 teaspoon vanilla extract
1 ½ cups heavy whipping cream
In one bowl, beat the cream cheese, sugar, salt and vanilla until smooth.
In a small bowl, whip the heavy cream until stiff peaks form.  (Chill bow)
Fold whipped cream into cream cheese mixture in 2 parts. Use about 1/4 and whisk vigorously. Fold in other 3/4s.
Let set in fridge for an hour or use immediately. Can pipe icing onto cupcakes with piping bag or spread on with a knife.
Paragon
Chill a hurricane glass
In a shaker filled with ice, combine:
3 ounces pineapple juice
1 ounce fresh squeezed orange juice
2-3 drops of blue food coloring (not too much or your drink will be green)
*Optional: 1 ounce of Coco Lopez coconut crème
Shake well to incorporate ingredients and strain into the chilled hurricane glass filled with ice.
Garnish with a slice of pineapple and a maraschino cherry.
Renegade
1 oz gin (or vodka)
½ oz Grand Marnier
1 splash lemon juice
1 dash grenadine
Garnish: mint leaves
Shake all ingredients well with ice in a cocktail shaker.
Strain into a chilled cocktail glass.
Garnish with mint leaves, a sprig of mint or lemon balm.