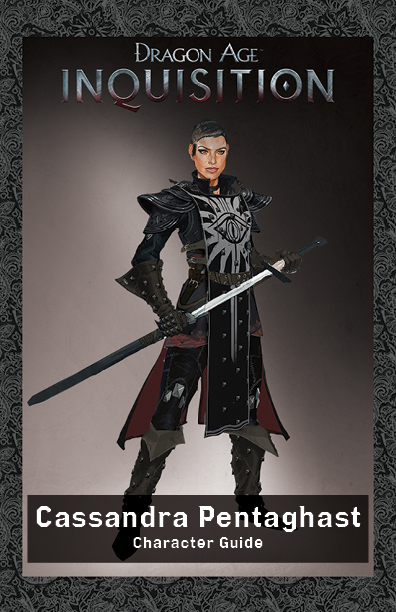 Though of noble birth, Cassandra Pentaghast turned her back on a life of pomp and politics long ago, trading silk and lace for sword and shield.
Cassandra is a long-serving member of the Seekers of Truth. The quiet order both protects and polices the Chantry, and is granted ultimate authority in its investigations. Feared by everyone from the lowliest mage apprentice to the Templar leadership, all are subject to the righteous wrath of the Seekers. Their judgment is final.
Cassandra joined the order shortly after the death of her brother and quickly rose through their ranks. She is outwardly rigid and rarely shows any emotion, save anger and aggression. Sharp, pious, and driven, she is the sword in the right hand of the Divine, seeking justice above all else.

Download the guide here
For all other character kits, click here.
References:
Cassandra Front
Cassandra Back
Cassandra Head
Cassandra Head (profile)
Cassandra Boots
Cassandra Boots (profile)
Cassandra Chest
Cassandra Back (details)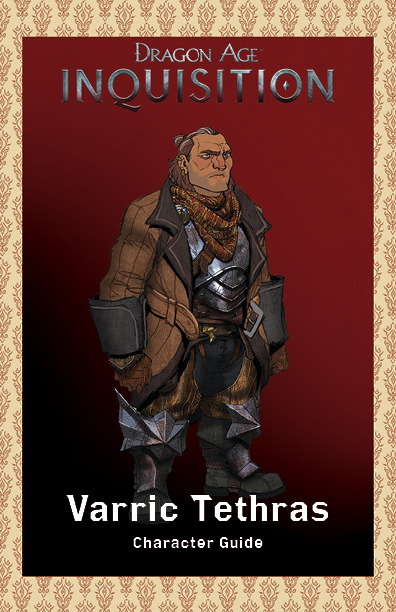 Varric Tethras will tell you the history of Thedas and everyone in it without a word or whisper of himself. Though quick to deal with the troubles of his companions, Varric buries his own problems behind a boastful front.
Born among the surface dwarves of the Merchants Guild, Varric is a man apart from his people. He has no love or longing for the homeland underfoot that shuns him, and has little taste for the flamboyant displays of wealth and privilege displayed by so many surface nobles. Instead, find this clean-shaven and well-tailored dwarf at the side of an unlikely hero or rubbing shoulders with your local tavern's finest knaves. He's at his best with cup in hand and tale to tell, rewriting the truth as he sees fit.
Download the guide here
For all other character kits, click here.
References:
Varric Front
Varric Back
Varris Back (no coat)
Varric Head
Varric Head (profile)
Varric Chest
Varric Back Details (low)
Varric Back Details (high)
Varric Boots