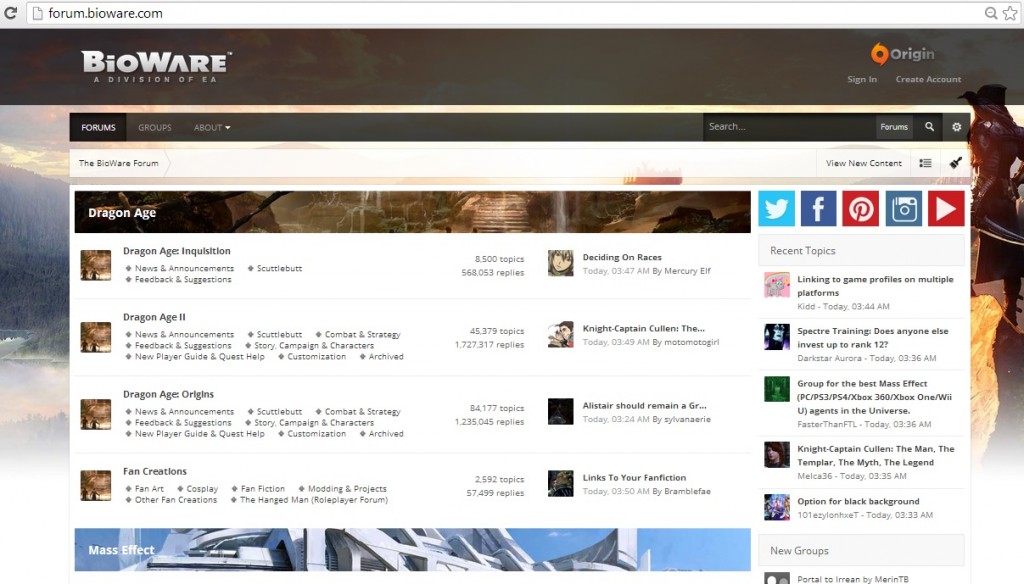 One of my favorite moments at a convention is one that you guys never see– it's the moment right before we open the doors. After months of planning — and shortly after inhaling coffee that's just a bit too hot –we're ready to let you in and see what we've been up to.
Today, we're sharing another one of those moments with you. We're launching the BioWare Forum, which I believe will be an exciting addition to our online space.
Before we get into details, this is not the discussed community destination site currently still in development. That site—which builds on fan and employee surveys, interviews, and other feedback—is still to come, and we can't wait to share details as we continue working towards this. However, this reveal is part of the roadmap to get us there, and brings us one step closer to the promise to both ourselves and fans to continue rebuilding a positive, constructive community.
The BioWare Forum replaces the old discussion forums, adding new features designed to foster an entertaining, educational, and safe space for developers and players to engage one another. Among the improvements is updated technology that allows for much more robust moderation, along with a new set of guidelines with more clearly enforceable rules. A new design lightens the look and feel of the site while keeping the tone of the modern BioWare brand. Other notable features and changes include:
Mobile skinning and functionality for the first time ever
Converting posts from the (now "legacy") BioWare Social Network over to conserve pre-existing threads
Rebranding social.bioware.com as a new landing page to guide players to our key online spaces including Dragon Age Keep, the BioWare Forum, N7HQ, and EA Answer HQ
Curating Legacy BSN as a Read-Only web portal available as a link at the bottom right-hand corner of the new social.bioware.com
In addition, we're taking a strong stance in our standards for online behaviors. Through more structured categories and moderation, our Forum is enforcing discussion surrounding our games, studios, and BioWare culture, which is why we've changed the name from "BioWare Social Network" to "the BioWare Forum." The primary focus here is not on socialization, but rather on-topic content related discussion. If you browse the site, you'll notice we've also added a section called "Our Philosophy." This mission statement further underscores the inclusive environment we're cultivating as forum users passionately discuss everything Dragon Age, Mass Effect, and the foundational games that made BioWare what it is today. We'd love for you to go ahead and take a look at Our Philosophy now:
Welcome to the BioWare Forum. We envision this space as a symposium of minds where players can share, exchange, and discuss perspectives on BioWare Edmonton and Montreal game universes and products in the Mass Effect and Dragon Age franchises as well as our legacy titles. This place is important to us, and we hope it becomes a bustling hub for our fans. We believe in constructive discussion and productive debate that end with handshakes. Developers work together to create our products; creative clashes happen once in a while, but sharing the same space means working through issues together. In this, our shared virtual space, we expect the same from our players. While we welcome a diverse influx of ideas and opinions, we have core beliefs about what it means to interact with one another.
Please respect this space, our developers, fellow players, and above all else, yourself. If you see behavior that you deem unacceptable, report it and help us keep this forum constructive. We welcome fans from all backgrounds and want this to be a safe space for everyone, so please give us any input that will allow us to prevent online harassment and trolling. Our team will be enforcing a zero-tolerance policy for anyone who makes another player or an employee feel harassed. If you wouldn't treat a stranger that way in person, please don't treat them that way online.
When we open the doors at each convention, I'm overwhelmed by the number of different people and personalities I get to meet – familiar and new. We're building our virtual spaces with those same personalities in mind. Whether you're here to listen to a developer talk about game features, discuss your favorite character with friends who live all over the globe, or trade strategy tips with someone you've never met before, this is your space.
This is everyone's space. It has been the work of countless individuals, and I'm proud to stand beside them and see their work shine. Please come in, take a seat, and join the conversation. We're happy to have you here.