The World of Thedas
By Dragon Age editor Ben Gelinas (@bengelinas)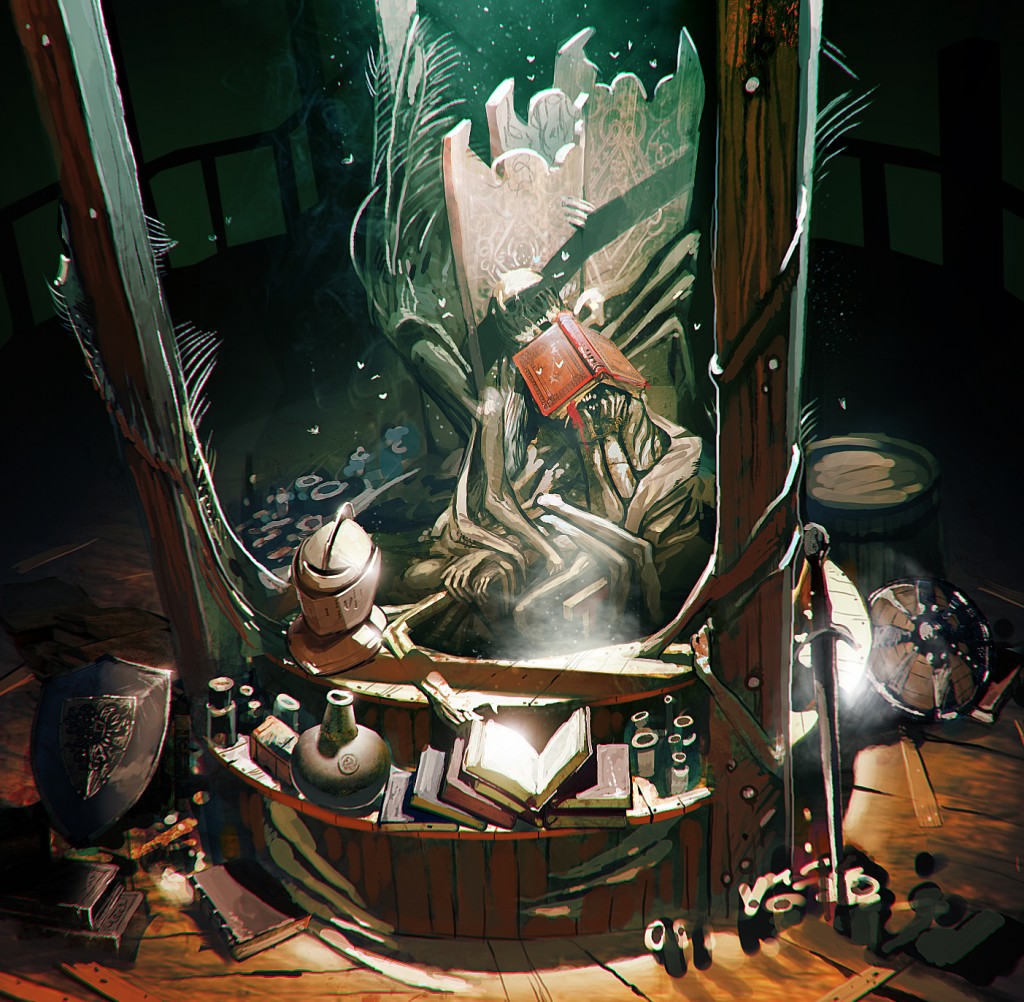 There's deep, and there's Dragon Age lore deep.
When I started work as a dialog and story editor on Dragon Age a couple years ago, one of my first tasks was to take some seven years of evolving lore and build a single point of reference that wasn't David Gaider's brain.
The Dragon Age team is building a world in Thedas that's so rich it's downright alive. There are hundreds of places, hundreds of characters, and oh so many concepts—all with meat on their bones.
The task to collect it all seemed a far cry from my old job as a newspaper crime reporter. Weirdly, though, I ended up using a lot of the same skills. I treated Thedas like a real world, ever mindful of its rules, limits, and established facts. Where questions appeared, I sought answers from creators like David and the other writers and artists.
With fiction, though, when something's missing, we gotta make it up.
Combined with background from every game, novel, and external product, I first built an internal lore guide—which currently sits at around 425,000 words and growing.
This guide formed the backbone for the upcoming Dragon Age: The World of Thedas – Volume 1.
Our new lore book offers a detailed look at Dragon Age from an in-world, encyclopedic perspective. We designed it to appeal to Dragon Age vets while still offering a solid introduction to those diving into the world for the first time.
One of the most exciting features is new in-world writing from a small army of Dragon Age writers and editors, including David Gaider, Luke Kristjanson, Mary Kirby, Sheryl Chee, Karin Weekes, Jo Berry, and Sylvia Feketekuty. Together, we've penned dozens of brand new codex entries from familiar characters like Varric and the ever-prolific Brother Genitivi, which dig deeper on topics as wide-ranging as griffons and Kal-Sharok to sexuality and sacrifice.
We take readers to every nation, fleshing out what life's like in such far-flung reaches as Par Vollen and Seheron. A revised map charts these points, and clarifies some things to best reflect the world as it continues to be written. Weisshaupt's on the right side of the Hunterhorns now, people. And it's glorious.
Multiple entry points allow readers to browse the book or digest it cover-to-cover. An extended timeline of recorded history spans all chapters, charting hundreds of the most important moments in the tumultuous history of Thedas. Sidebars also pop up to provide peeks into the stranger parts of Thedosian life. (My favorite discusses fashion trends.)
Hundreds of pieces of concept art are provided by our many talented artists, as well as great external partner artists like Green Ronin's Tyshan Carey. My partner-in-crime, concept artist Nick Thornborrow, will talk more about the pictures in a second blog post.
While I personally fact-checked the hell out of this thing, I also had multiple team members do close reads to make doubly sure we weren't breaking canon or contradicting anything that's appeared previously. As thorough as we were, a couple things always slip past with a project of this scope. I just noticed that the Commander of the Grey is cited as the leader of the Warden Order in the glossary, for instance. It's obviously the First Warden—a fact stated correctly in the main text. These things will keep me up at night for months, I assure you.
Ultimately, Dragon Age: The World of Thedas is the sum of its parts. Creating Thedas is a highly collaborative process and this book could not have been possible without the contributions of countless writers, editors, artists, and other designers. It's a love letter to fans of the complex, living world the talented Dragon Age team continues to develop. We hope you enjoy reading it as much as we enjoyed making it.
—
If you're in Boston for PAX East this year, drop by the BioWare booth. Ben Gelinas and Nick Thornborrow will be there, answering questions and offering a preview of the book. Feel free to bring your writing or art questions, too; they're always happy to talk shop.
Dragon Age: The World of Thedas Volume 1 is available on April 17, 2013 from Dark Horse Comics and fine retailers.