We're hitting the road for the last time this summer, bringing the BioWare Base to PAX West once again. We'll be located in room 2AB, upstairs at the Washington State Convention Center.
This year, find out if you have what it takes to be an N7 operative at our Systems Alliance Recruitment Center. In a series of challenges, test your prowess in combat, biotics, and tech, racing against the clock to prove you're worthy of wearing the red-and-white stripes.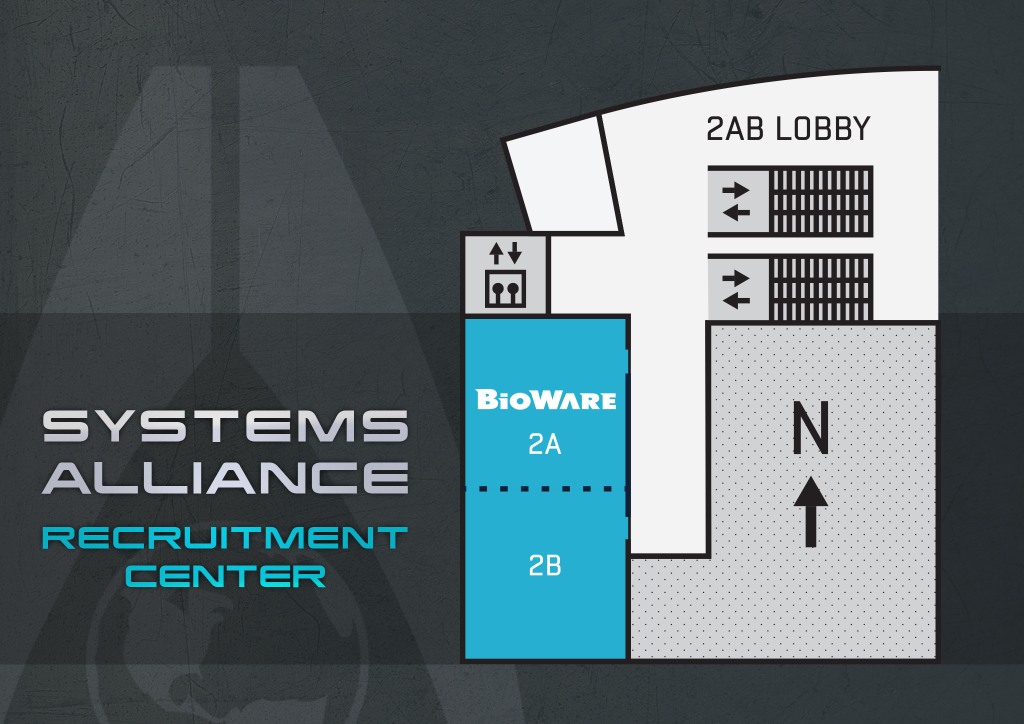 Stop by the BioWare base to meet some of our developers, or catch up with them at the following events:
BioWare Dev Signings
Saturday, September 3, 1-2pm: Sanshee Booth #2613
Sunday, September 4, 1-2pm: Sanshee Booth #2613
Panels
Saturday: 2pm
Making and Promoting Non-Traditional Characters in Games
Games are finally starting to reflect their diverse players with more types of characters, scenarios, and approaches to gameplay. Whether it's writing a one-eyed pansexual bull and his trans lieutenant; featuring non-white main characters; showcasing the female option in marketing; creating an entire cast caught in a web of gender, sexuality, and ability; acquiring unusual indie titles; or keeping the conversation going; it's crucial. Hear from those who did it and how they'll do it again.
Featuring Patrick Weekes—Lead Writer, Dragon Age franchise
Saturday: 8pm
Foreplay: Romance in Games
So, what's it like to be in the business of making gamers fall in love with characters that aren't real? With a growing diversity of games, we have a broader spectrum of romances than ever. But what makes you fall in love with your favorite in-game paramour? Hitting the right balance of writing, artwork, voice acting and music is complicated. How do the pros do it? And what could the future hold? Come cuddle up as we turn down the lights and turn down the bed on modern, digital romance.
Featuring Mike Laidlaw—Creative Director, Dragon Age franchise
Sunday: 2pm
Team Up: Women in Games & Tech
Women are a driving force behind many creative disciplines in both the video game industry and tech. Join the discussion to learn about overcoming common obstacles, hear war stories, and get networking advice from professionals. We will cover topics from getting a job to growing your career and everything in between. Come prepared to ask questions, and get ready for an uplifting conversation on how to effect positive change in your career.
Featuring Melanie Fleming—Localization Producer, BioWare studios