When Jackie contacted our BioWare Montréal studio looking for help proposing to her partner, Amy, the question wasn't whether we could help, but what we could do to make it happen. Both are fans of the Mass Effect universe, and Jackie was hoping that there was a way for her to propose in-game, bringing together their love of each other and their love of the series.
Upon receiving Jackie's email, studio manager Marie-Renée Brisebois put out a call to see if any developers were interested. In no time at all, she had a team composed of writer Ann Lemay, lead level designer Colin Campbell, and QA analyst Barrett Rodych, all of whom were willing to put in the extra time in the name of love.
"I love being married. It's my favorite thing about my life, and it's a huge amount of what I enjoy about living, but being a videogame designer doesn't often give me the opportunity to help someone else have a marriage," Colin said. "This is rare and something that's almost never going to happen to anyone in the industry, so as soon as I saw the opportunity, I jumped right on it."
Colin worked closely with Ann to figure out what they could build and how it might work. They wanted to ensure the level was peppered with references to the couple's relationship so far, but they also didn't want to give anything away before the big reveal. They also didn't want Amy to die and have to start over, so Colin made sure there were safety nets in place that would ensure she got to the end on her first try.
With Barrett's help, they got the level running in Frostbite 3, and then all that was left to do was get Jackie and Amy into the studio to play it.
To craft a believable pretext, Marie-Renée created a fake contest called "A Day with Our Devs." She then sent an official letter to Amy and Jackie, claiming that they had won a contest at PAX East and inviting them to come spend a day touring our Montréal studio.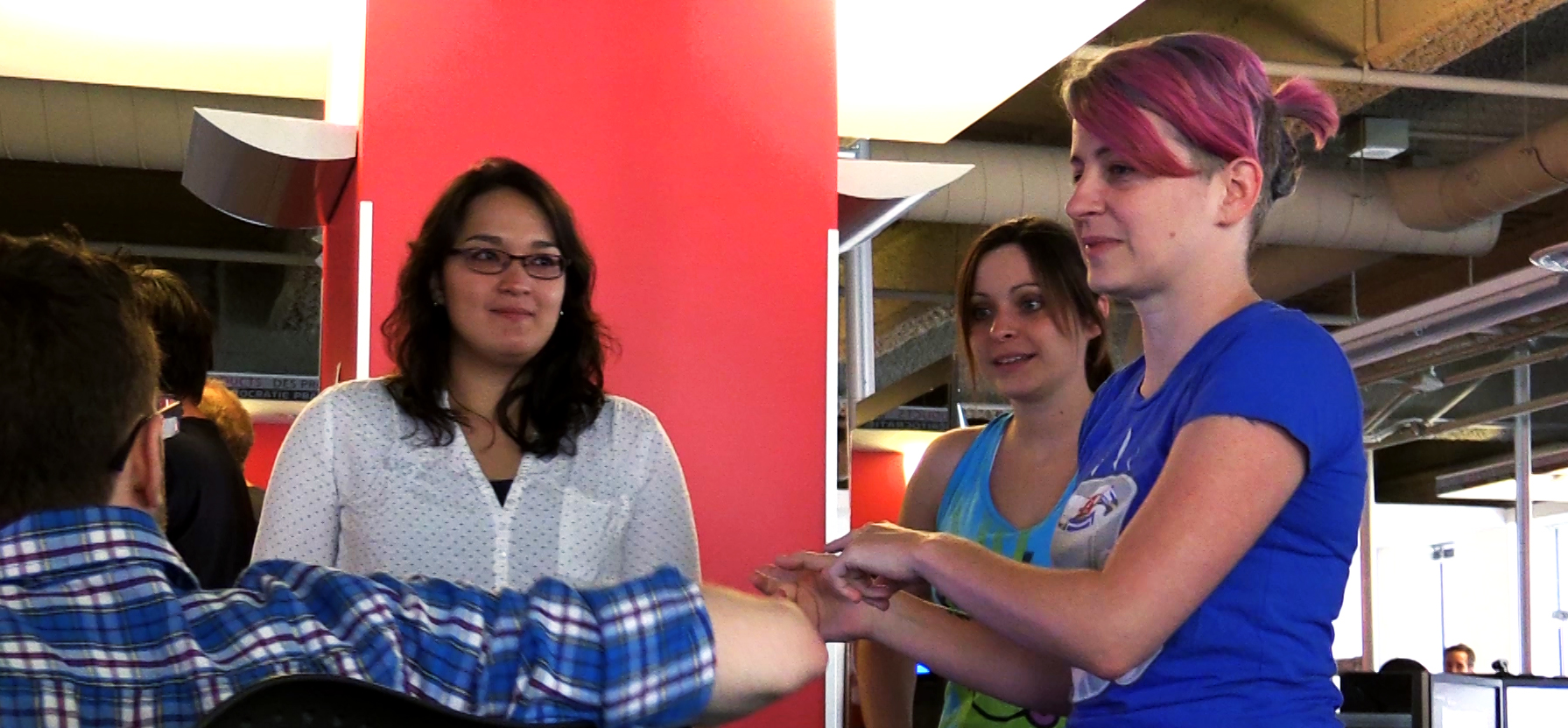 Upon arrival, Amy was offered a chance to play the next Mass Effect game under the pretext that it was for consumer feedback. Ann, Barrett, and a number of others crowded around the desk with notebooks and pens, pretending to be collecting data as they waited with bated breath.
"I was really nervous, even having gone through the level 20 times on my own making sure all the doors were working and all the message boxes were working," Barrett said. "But I would do it again in a heartbeat."
After loading up the level, Jackie was prompted by a mission briefing, stating that a drone manufacturing lab had stopped sending reports and asking her to investigate. As she played through the level, Jackie uncovered more and more reports that contained subtle references to her relationship with Amy.
"I did get some of the other writers to read through it to make sure I wasn't selling the punch too soon," Ann said. "But I also know that it can be a stressful environment for someone to come into a studio and starting to play something, so I tried to plant good hints as to what was going on."
Once she reached the end of the level, Amy walked into a room with a lone console in the center that had her and Jackie's names for one another spray-painted on the wall in 50-foot high graffiti. When she clicked on the console, a message popped up: "Dear Amy, Jackie would like to ask you something.
Love,
All of us at BioWare"
Jackie then got down on one knee, took out a ring, and proposed.
Amy said yes.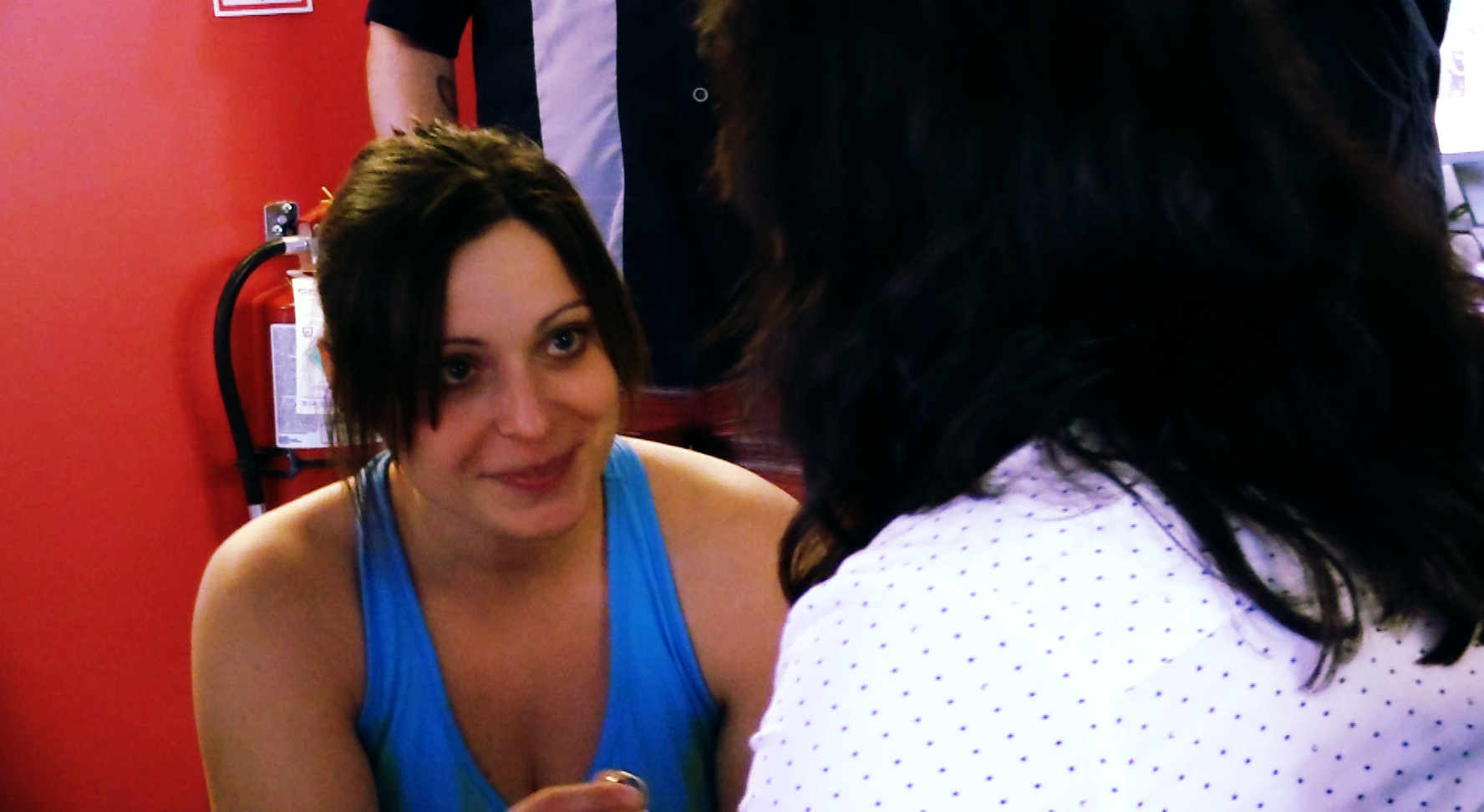 "When she got to that room, everyone around was riveted and hoping she'd say yes," Marie-Renée said. "It was a beautiful sight to see. No matter how grumpy you are, when you see a thing like that you can't help but smile and maybe even tear up a bit."­­­
"There aren't many situations in videogame development where you get the chance to step back and do something like this for somebody else," Colin said. "I think videogames are powerful and an incredible form of art and entertainment and interaction, but they don't often get two people married. There are only a few stories like that in history, and it's awesome to be part of one of them."