I'd like to tell you a story. It starts out being all about me, but don't worry—it ends with something I hope that you fan creators out there will like!
My first encounter with Dragon Age was at San Diego Comic Con in 2008 when BioWare was demoing Dragon Age: Origins across the street from the convention center. I spent the entire time fiddling with the character creator and messing around in the Fade. On a platform behind me, Mike Laidlaw discussed customization and mage robes with fans. That year, I went to the convention as a kind of dieselpunk-meets-Mad Max-road warrior, and I remember having to take my gloves off to play. Cosplay problems. When the game came out in November 2009, my best friends, Holly and Graham, and I were hooked. Morrigan, Alistair, and I became just as inseparable in eerily unsettling mirrored love-hate friendships.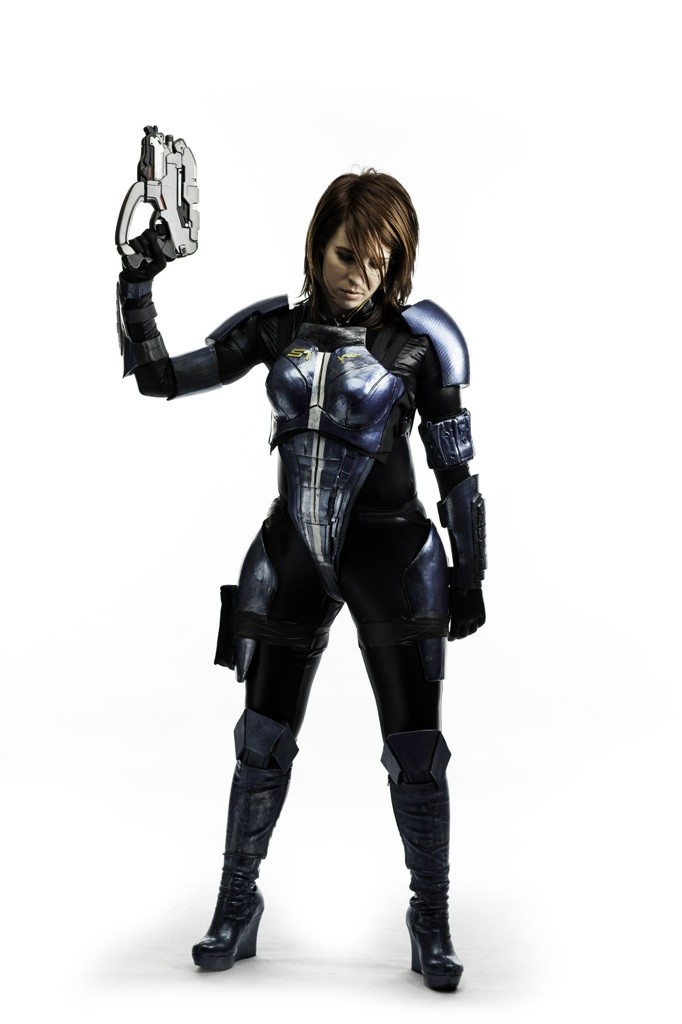 The next time Dragon Age was demoing at Comic Con in 2010, we visited our friends at BioWare dressed head-to-toe in Mass Effect cosplay. Our buddy Tank, cosplaying as Grunt, somehow unlocked the debug screen with his three-fingered gloves in the middle of heated combat. The developers eagerly gathered around to watch our reactions to their demo, which I now know firsthand is a labor of love to showcase what's yet to come.
That year, I spent most of my time in the garage trying to recreate the main protagonist of Dragon Age II: Hawke. My own labor of love was trying to match her fur back draping, the sweeping crimson leather cloak, and a grand buckle that would become iconic to the character. Holly and I wanted to have the costume ready to march down to pick up DA-II at its midnight launch and to wear at PAX East. It was a challenge to spend that much time and money to make something accurate while simultaneously being afraid of cracking open the game only to realize that the back draping was totally wrong; but all we had to work with were game screenshots I'd gathered and our memory of the demo.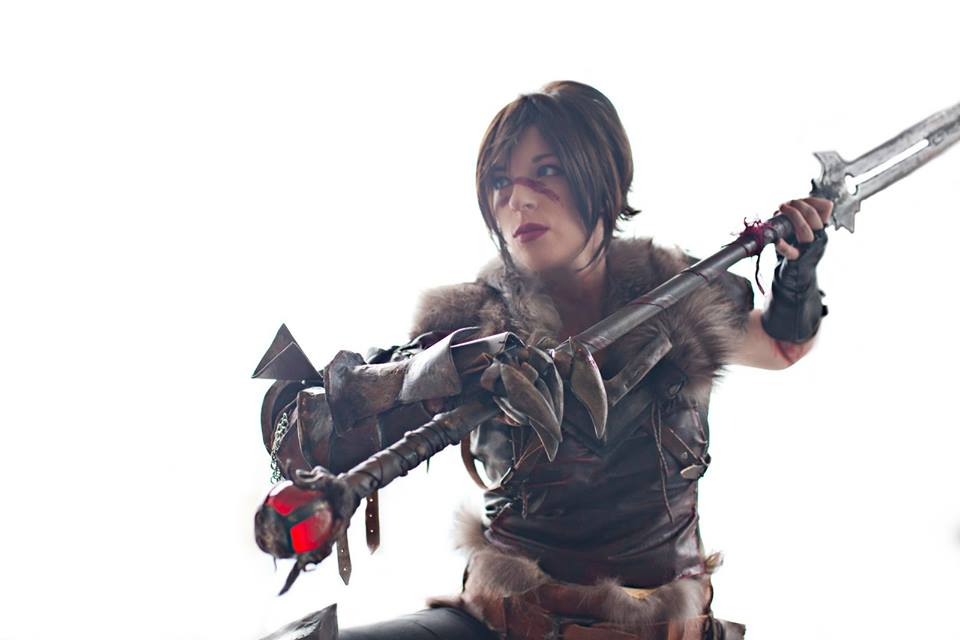 When I started working for the company in August 2011, I bled BioWare blue and cosplayed… whatever color that is. For me, cosplay is the closest I can get to jumping right into the game, becoming the character, and giving back to something that has given so much to me. Luckily, I work with about a zillion people in the studios who love and appreciate fan art. After talking to cosplayers at conventions, our concept artists have even started adding more pockets to characters to hide anachronistic things like cellphones and wallets. I don't know if you creators out there are aware of how much of your work is printed and plastered around the office or on computer/television monitors. During crunch or late nights, it's a great reminder that video games inspire people—which, in turn, inspires our developers.
So it's with great pleasure that I announce an initiative that has been a long time in development, a project of passion for quite a few departments within BioWare. We want to give fan artists–cosplayers, illustrators, painters, writers, cake decorators, everyone–access to detailed, descriptive, high resolution character designs before the game is released. These will be distributed so you can have them available online or print them out and keep in your garage, workshop, sewing room, or creative space to reference. Our first Character Kit is Morrigan's ball gown, a costume that I'm particularly fond of and cosplayed for PAX Prime this past year.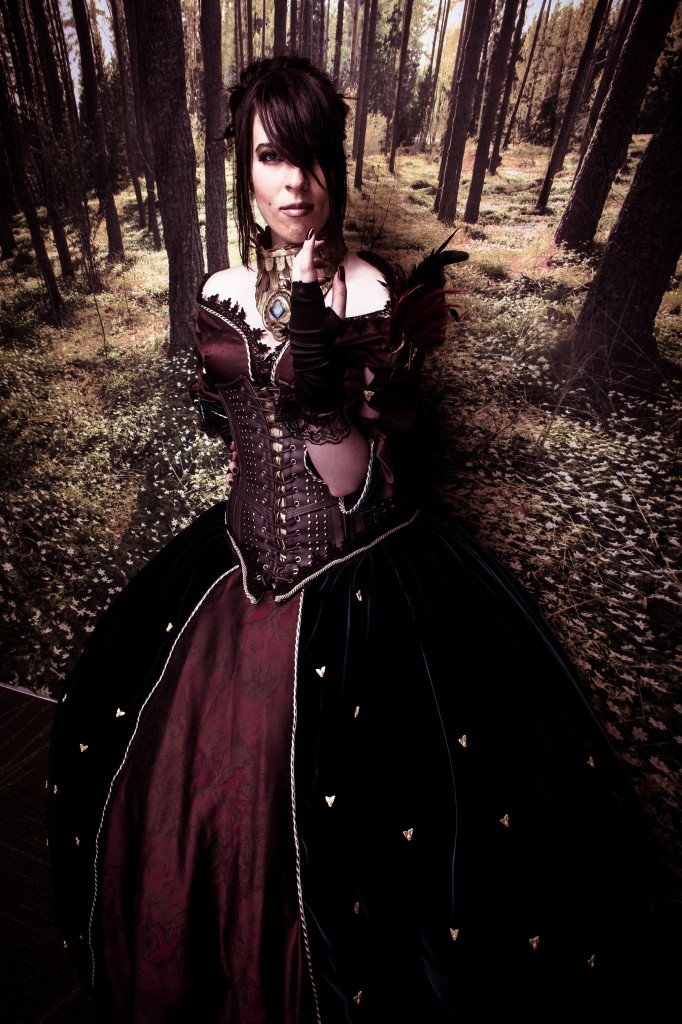 Download the Morrigan Character Guide here. 
NOTE: This printable version is intended to be printed on 8.5 x 11 standard letter and folded in half.
References:
Morrigan Head (Front)
Morrigan Head (Side)
Morrigan (Front)
Morrigan (Back)
Morrigan's Dress
Morrigan's Dress (Detail)
Morrigan's Corset
Morrigan's Corset (Back)
Morrigan's Glove
Morrigan's Necklace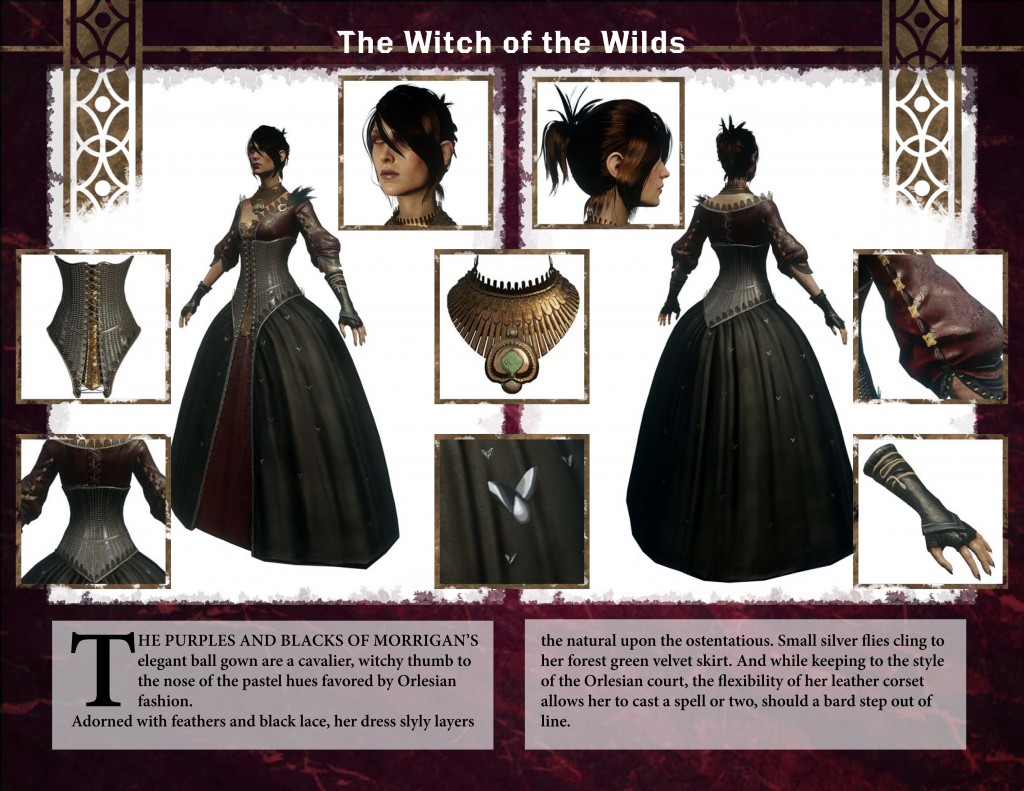 Please keep an eye out for new Dragon Age: Inquisition Character Kits in the coming weeks and months. You'll see new and familiar faces that I hope create discussion and curiosity about what is yet to come, just like our demos do. If there's anything you'd like us to include in the Kits, let us know!
We hope you enjoy utilizing these designs—and we'd enjoy seeing them! Please share your creations with us at community@bioware.com!
Always yours in all things Fandom,
Jessica, on behalf of everyone at BioWare
PS – Also, definitely check out the amazing work that Christina has already done on her own Morrigan costume, along with her friend Karin who is cosplaying as the Inquisitor!