The first event of the 2012 BioWare Series of Poker is over, and went off without a hitch.
This event was our standard re-entry until the first break, with an add-on. We had 16 players , both employees and their friends, come out, with a large number of our regular players having to regretfully sit out as they are ME3 QA guys. There was lots of action resulting in 7 re-entries, and 11 took the option to top up their stacks. As a result, 4 positions paid, and quite lucratively!
The final table consisted of JC, Leanne, Chris, Steve, Dave, Brenon, Neil, Jeff and Jonathan. Leanne and Neil were vulnerable with small stacks, and Brenon and Chris looked strong.
JC was also fairly short stacked, and had to open his range and get aggressive earlier than he would normally. Steve Lam noticed and called one of JC's all-ins with a strong AQ, but was dismayed to see JC turn up Big Slick (AK). Neither improved and Steve was out. Both Neil and Leanne also fought valiantly for a good while. Leanne patiently waited for decent hands, but struggled to get action. Finally, in a great spot to double up, she shoved with AQ and was called by AJ. The poker gods were cruel and a J fell on the flop, putting Leanne out in 8th place. Neil also succumbed to the fates, and was ushered out shortly thereafter in 7th.
Brenon was kind enough to be our dealer at the beginning of the final table, but his unfortunate exit in 6th place had him departing the premises with Neil for better company. A quick seat shuffle got Chris and JC into alternate dealer positions, and play continued.
2010 BWSOP Player of the Year Jon Epp made a good effort to post some points early in 2012, but unfortunately was our bubble boy going out in 5th place.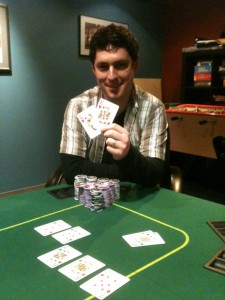 JC, Chris, Dave and Jeff made the money. This is a fairly tight group of players, so the next eliminations took some time. JC commented that the players were getting a lot of play for their money.
Chris expressed mild frustration on a couple of occasions, commenting that because he was unfamiliar with the enigmatic Dave's play and range, he was not able to call Dave's all in raises. Chris was on Dave's left, so these impacted him significantly. In the end, Chris had to make a stand against a Jeff raise, but ended up shipping his chips and settling for 4th place. He generously stayed on as dealer for the final three.
Jeff continued to hammer the remaining players, and finally knocked out Dave in 3rd place. The heads-up finale began with Jeff sitting at 2x JC's stack.
On the final hand, Jeff had the button, and limped in. JC looked down at K8 of spades, and shoved all in, hoping to pick up the blinds, but ok with a showdown. Jeff obliged with a call, and turned up a dominating KQ of hearts. The flop was 3h 6c Kc. The turn brought the case K, leaving JC dead to an 8. No miracle for JC and Jeff was crowned our champion.
This win also puts Jeff in the early lead for 2012 player of the year. Congratulations, Jeff!