The Dragon Egg Hunt continued at San Diego Comic-Con, where two more eggs were found.
The Antiva mage egg flummoxed our inquisitors with the following instructions:
The Antivan Crows are a secretive organization of spies and assassins feared throughout Thedas. They practically rule their famously corrupt homeland, and such is their reputation that Antiva needs no standing army. If the Crows take a contract, they will make good on it, and someone has hired them to seek out the dragon eggs. Their agents have fanned out across Thedas looking for clues and everywhere their influence is felt. Already the Crows have assassinated five other hunters of the dragon eggs. A map of Thedas shows where they have struck. You can see the trail of corpses starts in the north and ends in the south.
The crow feathers scattered on the map may guide your path to a five-letter word.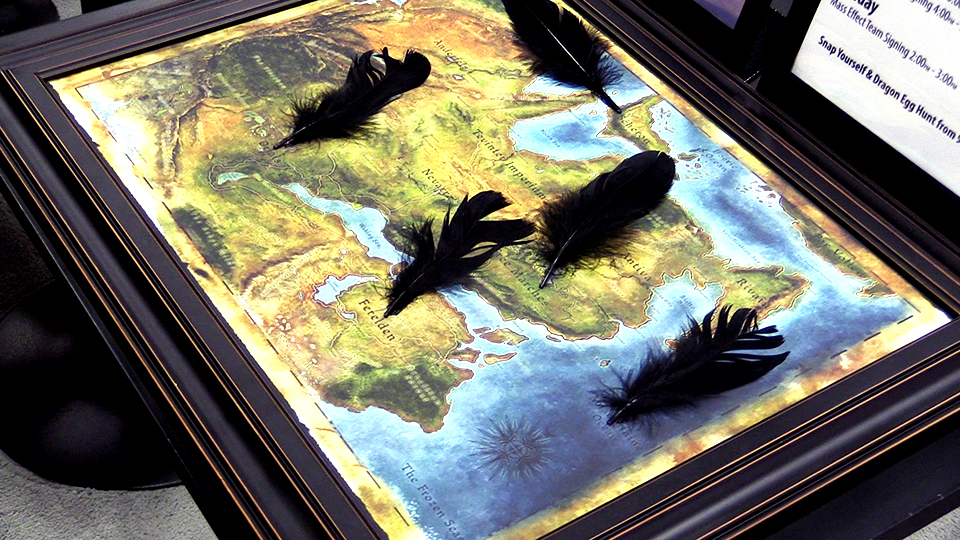 Meanwhile, the Qunari rogue egg involved following a trail of destruction caused by the assassin Tallis. Here's what the inquisitors saw:
Those who adhere to the teachings of the Qun are rarely attached to physical property but the dragon eggs have attracted even the attention of the Qunari. The elven Qunari assassin Tallis is on a quest to trade one of these eggs for the password that will give her access to a slave camp run by a secret consortium of merchants across Thedas who sell slaves to the Tevinter Imperium. She intends to destroy the camp and free the slaves, but to do that, she will need to interrogate a merchant or merchants in six different locations. For each such target, you'll be given a list of three other merchants that have led her to that point. Hidden in the names of those three merchants is something of a particular group, which is for you to determine. Another member of that group is hidden inside the name or names of one of the three possible options of who Tallis should take out next. For example, if each of the first three merchants contains the name of a coin, you might target VINCENTO, whose name contains CENT. Identify each target, unite their target letters in some order, and you will gain the word you need to give Tallis's minion.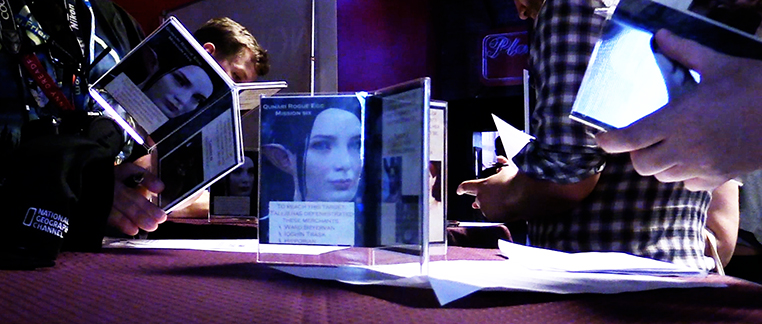 There were six signs, each with three merchant targets.
The text on the signs read as follows:
Target One:
To reach this target, Tallis has assassinated
Karsha Tillerman
Alita Piscapell
Dobbelt
Her next target is
TARGET B: Ademaro
TARGET H: Bonny Lem
TARGET O: Hubert Bartiere
Target Two:
To reach this target, Tallis has decapitated
Razincor
Maribelle Adair
Volgoldar Nash
Her next target is
TARGET E: Lirene
TARGET G: Martin
TARGET Q: Old Tegrin
Target Three:
To reach this target, Tallis has eviscerated
Clemont Iverham
Pearl Fensford
Ollimer
Her next target is
TARGET A: Figor
TARGET K: Gorim Saelac
TARGET M: Tomwise
Target Four:
To reach this target, Tallis has ventilated
Renna Tharpion
Aluteria
Ballard Rumbuck
Her next target is
TARGET C: Bodahn Feddic
TARGET L: Glassric
TARGET R: Varathorn
Target Five:
To reach this target, Tallis has incinerated
Amfred Dewersby
Doctor Maren
Andoemar
Her next target is
TARGET F: Janar
TARGET N: Master Henley
TARGET P: Nexus Golem
Target Six:
To reach this target duo, Tallis has defenestrated
Ward Beyervan
Iochin Trask
Hipporian
Her next targets are
TARGET D: Armaas and Legnar
TARGET I: Bella and Cera
TARGET J: Levi Dryden and Mikhael Dryden
After you figure out the six target letters, you can scramble them into a six-letter word.
We'll reveal the answers in the coming days, and prepare you for our next stop in the Dragon Egg Hunt: Gen Con!